Ayo Samuel O.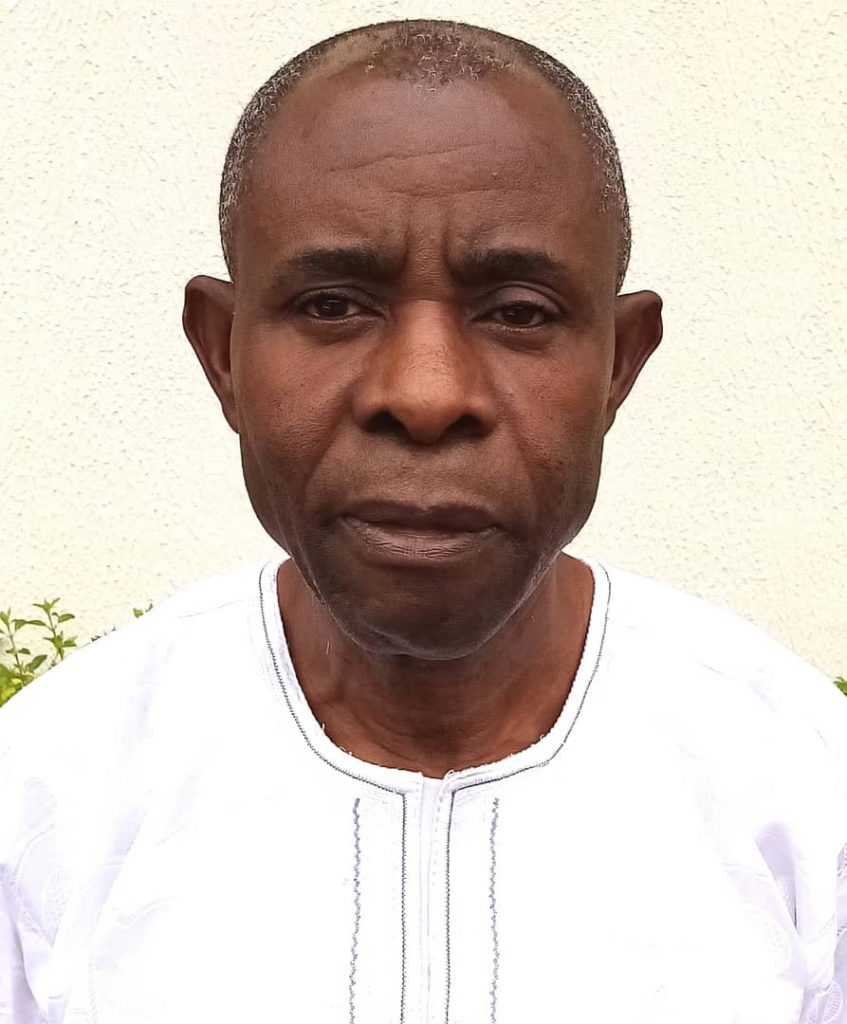 Highlights of his Interview
Interview of Mr. Ayo Samuel Olorunju
Born on the 8th of March,1953 in Okedagun Compound (Omolokun Clan) Odole Mopa, Kogi State; Father's name is Ayo Elewa; Mother's name is Omoyejare Ayo (Nee Ogundana).
Education: ECWA Primary School Okedigba, Mopa, 1960-1961; Modern Age School, Lagos 1962-1965; ECWA Primary School Okedigba, Mopa, 1966-1967; ECWA Secondary School, Mopa, 1968-1972.
Career with NNSL. Employed 1st Sept. 1975 in Apapa, Lagos as Trainee Radio Officer on a salary of N154.75 per month and sent to Hull, England (UK) for training; attended Hull College of Higher Education, England (UK) from 1975 – 1978; obtained Maritime Radio Communication General Certificate (MRCGC) & Radar Maintenance Certificate; Attended Southshields Marine & Technical College, England (UK) from 1981-1982; Obtained C&G Certificate in Marine Electronics, T3 Electrical Technician Certificate. NNSL sponsored all the training.
Started his sea career on the 17th May 1978; First ship was M.V. River Hadejia; posted onboard this vessel in Liverpool on the 17th May 1978 as Assistant Radio Officer on basic salary or N344.00 per month; sailed on this ship till 15th July 1978; sailed on the M.V. Ahmadu Bello from 1st September 1978 till 1st September 1979 as Assistant Radio Officer; promoted Radio Officer onboard the M.V. Ahmadu Bello on the 2nd of September 1979 on a salary of N448,00 per month; sailed on this ship till 25th June 1980; onboard the M.V. River Oshun from 26th June 1980 till 8th July 1980; sent to Split, Yugoslavia, to board M.V. River Maje in the shipyard on the 9th July 1980; sailed on this ship till the 26th February 1981; sailed on the M.V. River Ngada 16th January 1982 to 12th July 1982. sailed on the M.V. River Oji 16th July 1984 to 30th September 1985; sailed on the M.V. River Majidun 23rd July 1986 to 5th May 1987; sailed on the M.V River Osse 12th March 1988 to 17th October 1989, sailed on the M.V. River Oji 13th December 1990 to 14th January 1994;
Had wanted to further his education for a course in Business Administration but was hindered by lack of finance; one of his seniors in Secondary School, Late Theophilus Olu Alonge, gave him the information of the recruitment exercise in NNSL and told him to apply; applied because  it was the only option left for him to further his education; without knowing anybody there, he was called for interview;  some people thought that he came through Capt Omotoso; actually, did not know him until after his recruitment;  seven of them, trainee radio officers, were sent to  Hull  (UK) for training: Alaiyemola Joseph (late), Nwachukwu Emmanuel (late), Ogunjirin Sunday (late), Oshin Tunji, Oke Wale; Tijani Debo (late) and himself; other colleagues were sent elsewhere in the UK, some to Liverpool and Southampton, including Opalana Isaac, Odebumi Jide, Udoh Ini, Oyewo Kayode, Ofoegbu Cliff, Amobi Patrick; some of his senior colleagues are Daramola Ade, Oke  Adeniyi, Ugeh INC; worked with many master mariners and related well, including Captains Balogun F, Olukotun P, Solaja A, Quansah, Kanijo, Essien, Ogbonaya C, Forest, Wood, Joseph; also  sailed with many engineers, including Engr Oluwa, Lebari, Echikwa, and Tony Afolayan.
During his career at sea, his family was based at Ilorin, Kwara State; average period of absences was two months; except when their ship was arrested in Singapore that he returned after one year; his last child was born at this time;  left NNSL in 1995 when the company became defunct; after leaving NNSL, got another appointment with East West Coast Maritime Service Ltd, Apapa Lagos in 1996; posted onboard Hope of Ecowas – a Training Ship for Cadets  as a Radio Officer on the 29th February 1996; after working with this company for about six months he left for  Genesis Worldwide  Shipping, Apapa, Lagos, posted onboard the M.V. Genesis Pioneer as a Radio Officer on the 30th August, 1996; after about 2 years onboard, went on leave and, on resumption, was posted onboard the M.T. Eringa – a Tanker ship belonging to Integrated Oil & Gas Ltd, Apapa, Lagos, a subsidiary of Genesis Worldwide Shipping as an Electronic/Catering/Admin Officer on the 24th of August, 1999; eventually, left this ship and ended his career at sea; next, he went into private business of buying, selling and installing electronic gadgets for many years; invited by the Pastor of his church to take a contract appointment with the ministry; accepted the invitation and took  the appointment on the 2nd December 2008 as a Technical Officer with Deeper Christian Life Ministry, Ilorin, Kwara State; still works with this ministry.
never knew that he could ever leave Nigeria talk less going to many countries of the world such as   England, Scotland, Italy, Yugoslavia, Poland, Germany, Russia,  France, Brazil, China, India, Belgium, Kenya, Tanzania, Cote D'Ivoire, Sierra Leone, Liberia, The Gambia, Senegal, Ghana, Togo, Cameroon, Iraq, Malaysia, Netherlands, Norway, Pakistan, South Africa, Thailand,  Singapore, Taiwan, South Korea, and Japan;  also thanks Chris Nezianya for remembering him as worthy to be part of this NNSL Online Archive project;  also remembered his good relationship with senior colleagues such as Capt. Iheanacho, and Capt. Niagwan; his opinion of what led to the downfall of the company: corporate mismanagement, and not seamen's fault; keeps in touch with his bosses and colleagues through the NNSL Whatsapp Groups.
As an Assistant Radio Officer in 1978, standing by the Master Compass.
Christmas on board MV River Majidun in 1984
In the Radio Room on board MV River Maje as Radio Officer in 1980
Enjoying leisure time at sea as an Assistant Radio Officer in 1978
Officers on board MV River Maje at Split Shipyard Yugoslavia in 1980
Ayo's wedding in 1983
Mrs Janet Ayo, Wife.
Ayo's children: Femi, Tomola and Leke
Mrs Ayo with her son, daughter-in-law and grandchildren